So what are the benefits hiring a professional photographer for your holiday let?

Just like all real estate business, Airbnb properties need to be showcased appropriately using captivating professional images to get the best views and bookings. Why then would you want to compromise that with clumsy amateur phone pictures?
There's no doubt that people using Airbnb are more like shoppers; looking to rent/higher a property. Hence, they tend to go for what appeals to them, making judgments based on what they see. For those wise enough to hire the services of a professional photographer for their Airbnb properties, statistics have shown that their listings have attracted hundreds of views and bookings more than those who used their novice photography skills.
Want to know why you have to hire a professional photographer for your Airbnb?
Here are a few reasons. 
1. Automatically increase your bookings and earnings
Several statistical surveys have shown that people who hired the services of a professional photographer for their Airbnb properties had an increased earning of over 40%! Similarly, their bookings and the nightly price increased by an all-time high of 24% and 26% respectively. (source) Yes, hiring the services of a professional photographer for your Airbnb property is that effective and unbeatable. So, it wouldn't hurt to invest some time and money to increase your bookings.
2. Bring the best of what you have to offer
Properties listed on Airbnb might be a place to be given up for rent or a place you have nurtured for other people to enjoy. Either way, only a professional photographer can bring out the best of what you have to offer. A professional photographer knows just the right amount of lights and shades to use; how to capture multiple angles from your potential guests' point of view. In other words, they have all the necessary tools and know-how of maximizing views, bookings, and earnings.
3. Outshine your competitors 
For your listing to be at the top of Airbnb, you have to think out of the box and go for something better than simple phone photography. Yes, in this era of smartphones, almost everyone can take a picture, but not everyone can take a good picture that will make your property stand out. Only professional photographers have the equipment, editing software, skills and talent that will attract potential guests with just one glance. So, while others are uploading "regular" images, going for something less cliché like professional photography will make your property look more like the ideal home rather than a "property just for rent".
4. Sometimes a short caption with an expressive photo can do the job
We live in a visual world where a good picture can say a thousand words; if not millions! For someone familiar with the Airbnb website, you need not be told how easily a good picture can earn bookings for your property within short intervals. A professional photographer knows the perfect spot to position his camera for that outstanding snap. Painting a chic, comfortable, warm and modern picture of your rental property; one that speaks a thousand words. Saving you the time and trouble of lengthy captions describing how valuable your property is.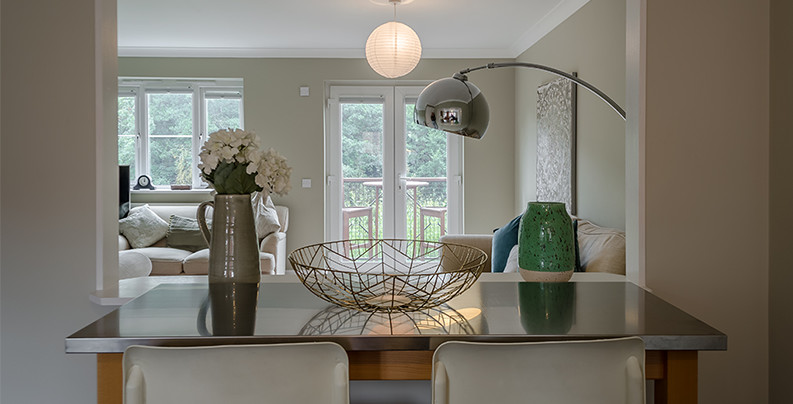 A study survey of over a hundred thousand Airbnb listings conducted in 2016 showed how positively the use of professional and experienced photography expertise had increased bookings and earnings by up to 50%. It's just like hitting two birds with one stone because, at the same time, the nightly rates of these properties also increased significantly. (source)
So, you have to stop thinking twice about hiring the services of a professional photographer for your Airbnb listings. Contact us for more detailed information.